Bikes against Bombs is a series of charity bike rides created by Convenience and Wholesale Retail industry professionals, for the industry. Co-founded in 2015 by Neil Turton (Managing Director – Sugro), Tom Fender (Development Director – TWC) and Raj Krishan (Commercial Director – Select and Save), Bikes against Bombs has so far raised an extraordinary £830,000 in support of MAG.
The rides, across Sri Lanka, Laos, Vietnam, Cambodia, the UK  and most recently Bosnia and Herzegovina have helped to bring together key individuals from across the sector, helped to forge lifelong friendships and crucially, raised essential funds which have been used to save lives and build safer futures for communities ravaged by the effects of war.
The team has seen first-hand the instant impact that MAG's work has and so they are taking on their seventh overseas ride which will be one of the toughest challenges yet – the Thai-Lao Trail 2023.
In March 2023, a team of 30 sector leaders will tackle the heat, hills and gravelly terrain passing from Chiang Rai, Thailand to Luang Prabang in Laos. The team has set themselves an equally challenging target of £170,000 which will make a life changing difference to people living with the daily threat of landmines and unexploded bombs.
By sponsoring the team today, you are helping MAG to save lives and build futures around the world in countries from Angola to Zimbabwe.
Sponsor the Team Here
Why we cycle for MAG
Every day across the world 19 people are killed or injured by a landmine or unexploded bomb. More than half of civilian casualties are children.
We believe that everyone has a right to live in safety and free from fear. MAG teams work across 31 countries around the world to remove unexploded landmines and bombs from land and destroy them, making it safe for communities to grow food crops; build homes, schools, health clinics and carry out other infrastructure projects; and access water sources.
Read more about MAG's global work 
In 2023, the cycle challenge will finish in Laos, which is the most heavily bombed county in the world per capita.
Two million tonnes of explosives were dropped during 580,000 bombing missions in the Vietnam War— a planeload of bombs were dropped every eight minutes, 24 hours a day, for nine years. Almost five decades after the war,  these deadly unexploded bombs remain a persistent threat and daily reality for thousands of communities across Laos.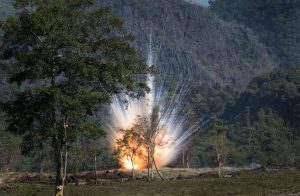 The harsh reality for people living across Laos is that they are forced to use land contaminated with explosives. People know that each time they plow or plant a harvest or simply let their children play outside they are risking death or injury from a hidden bomb.
Year after year they tread carefully, farm as small a patch as they can manage, and try to minimize the risks.
MAG has been working in Laos since 1994 and has teams of expert technicians working in Khammouane and Xieng Khouang provinces, searching out and destroying bombs in places where people live and work.
Our teams of dedicated, expert, locally recruited staff, remove and destroy these deadly unexploded bombs so that every paddy can produce rice, and every school yard can become a place of play without fear of deadly explosions and families can rebuild their lives and livelihoods free from fear.